Palace Concert

in Salzburg / canceled !!!
Location:
Marble Hall at Mirabell Palace in Salzburg
Concert
Program
HAYDN: Quartet op. 76 Nr. 3 "emperor-quartet"
MOZART: Quartet KV 458 "The Hunt"
MOZART: Piano Concerto A major KV 414
MOZART: String Quartet E flat Major KV 160
Amadeus Consort Salzburg
IRIS MOLDIZ, Piano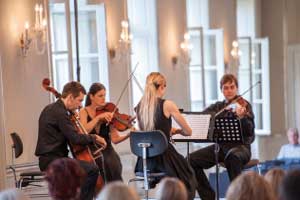 Amadeus Consort was founded in Salzburg and performs in various ensembles from the trio to the orchestra. The members of the ensemble have studied at various universities, but especially at the Mozarteum in Salzburg, and are active as professional musicians in numerous renowned orchestras and ensembles. The ensemble can refer to numerous engagements throughout Europe, Asia, Africa and America. Through participation in numerous TV productions, the ensemble became known all over the world.
Ticket Categories
Location
The baroque Marble Hall of Mirabell Palace is known as one of the most beautiful and historically important concert halls in Salzburg and the world. In former times the Mozart family played music there for the archbishops.