Palace Concert

in Salzburg / canceled !!!
Location:
Marble Hall at Mirabell Palace in Salzburg
Concert
Program
MOZART: Salzburg Divertimento D Major KV 136
MOZART: Salzburg Divertimento F Major KV 138
VIVALDI: Sonata a tre "la follia" op. 1 Xll
ALESSANDRO MARCELLO: Oboe Concerto in D minor
Nuovo Barocco
BETTINA SIMON, Baroque Oboe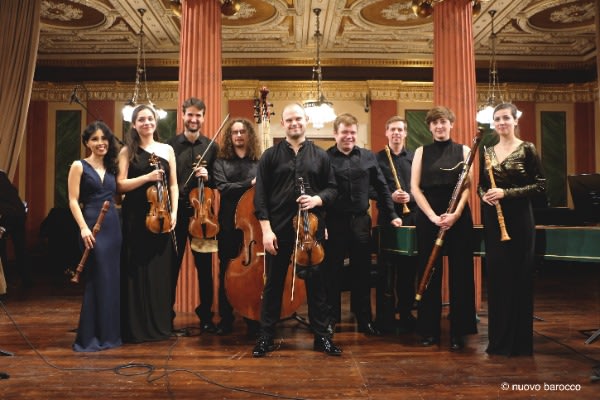 The baroque orchestra Nuovo Barocco was founded in Vienna by Greek
violinist Dimitris Karakantas and Hungarian baroque oboist Bettina Simon.
The young baroque orchestra finds its roots in the bigger family of the
"Orchester 1756" from Salzburg/Vienna, an orchestra also led by Dimitris
Karakantas. The young, international musicians of Nuovo Barocco, having
performed in some of the most important baroque festivals and venues and
worked with some of the greatest soloists of our days are searching for a
new, fresh, modern interpretation of baroque music in this smaller, vivid group.
Since 2018, the first year of its existence, Nuovo Barocco has already
performed throughout Europe, with concerts in the Brahms Hall of the Vienna
Musikverein, the Vienna Konzerthaus, the Grands Concerts at the Chapelle
de la Trinité de Lyon and the Bach Festival Lausanne, collaborating with the
great singers Max Emanuel Cencic and Jake Arditti. Upcoming performances
include a production of the opera "La Donna del Lago" by Rossini at the
prestigious Theater an der Wien in Vienna in March 2020.

Ticket Categories
Location
The baroque Marble Hall of Mirabell Palace is known as one of the most beautiful and historically important concert halls in Salzburg and the world. In former times the Mozart family played music there for the archbishops.