palace concert

in Salzburg
Location:
Marble Hall at Mirabell Palace in Salzburg
Concert
Program
MOZART: String Quartet d minor KV 421
RAVEL: Stringquartet F-Major
BEETHOVEN: Streichquartett G-Major op.18/2
Javus Quartett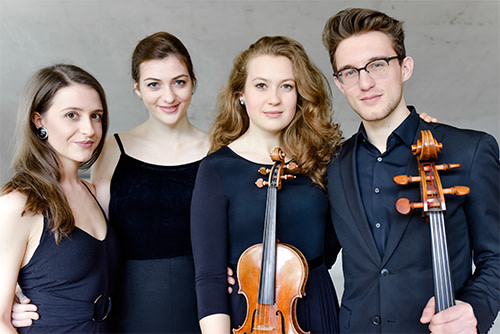 The Javus Quartet is a string Ensemble based in Salzburg, Austria. The four young musicians Marie-Therese Schwöllinger, Alexandra Moser, Anuschka Cidlinsky and Oscar Hagen have been playing together for long years in various combinations before they founded the Javus Quartet in 2013.

The Quartet is currently studying chamber music at the University Mozarteum in Salzburg with Prof. Lukas Hagen and Prof. Rainer Schmidt, both members of the famous Hagen Quartet. These two celebrated professors influenced the young quartet substantially in their musical development.
Marie-Therese and Alexandra also have been studying with Prof. Lukas Hagen for many years.
The Javus Quartet works with renowned chamber music professors on a regular basis. Eberhard Feltz, Valentin Erben, Michael Vogler and Christoph Poppen were particularly important for their evolvement.
The Quartet is not only performing in Austria but is also present internationally. They received the second prize at the C.R.D.M. International Chamber Music Competition in 2017 in Udine, Italy.

Ticket Categories
Category I
Numbered seats, central seating.
Seats will be assigned after booking.
Category II
Unnumbered seats behind and on the side of Cat. I, open seating.
Location
The baroque Marble Hall of Mirabell Palace is known as one of the most beautiful and historically important concert halls in Salzburg and the world. In former times the Mozart family played music there for the archbishops.