palace concert

in Salzburg / canceled !!!
Location:
Marble Hall at Mirabell Palace in Salzburg
Concert
Program
MOZART: String Quartet G Major KV 387
HAYDN: Stringquartet G-Major op.33/5
SCHUMANN: Stringquartet a-minor op.41/1
Adelphi Quartet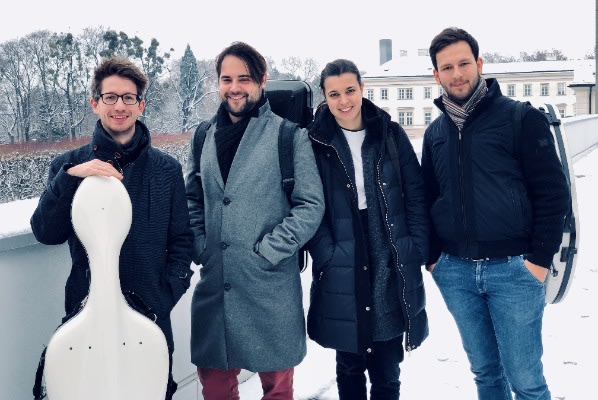 The Adelphi Quartet was founded in 2017 by four young musicians from the University Mozarteum in Salzburg. Coming from different countries of Europe and having extensive experience as soloists as well as chamber musicians, their passion for quartet playing brought them together to discover the deepest aspects of performing chamber music together.
Since October 2018, after being accepted for the master studies in chamber music at the Mozarteum, the Adelphi Quartet is studying in the class of Prof. Rainer Schmidt (Hagen Quartet). In Salzburg they also worked with Wolfgang Redik (Vienna String Trio), Milan Milojicic and Leonhard Roczek (both members oft he Minetti Quartett). Over the past years the Adelphi Quartet was selected by the University Mozarteum to take part in exchange programs with both the Guildhall School of Music and Drama in London and the McGill University in Montreal where they worked with Prof. Andre Roy. They also participated in a masterclass with Alasdair Tate (Belcea Quartet). The Adelphi Quartet already had the opportunity to perform throughout Europe: United Kingdom, France and Austria among others.

Ticket Categories
Location
The baroque Marble Hall of Mirabell Palace is known as one of the most beautiful and historically important concert halls in Salzburg and the world. In former times the Mozart family played music there for the archbishops.