palace concert

in Salzburg / canceled !!!
Location:
Marble Hall at Mirabell Palace in Salzburg
Concert
Program
HAYDN: piano trio No. 39 G major Hob. XV:25 »Gipsy«
BRAHMS: piano trio in B major op.8
MOZART: Piano Trio G Major KV 564
Trio Leggiero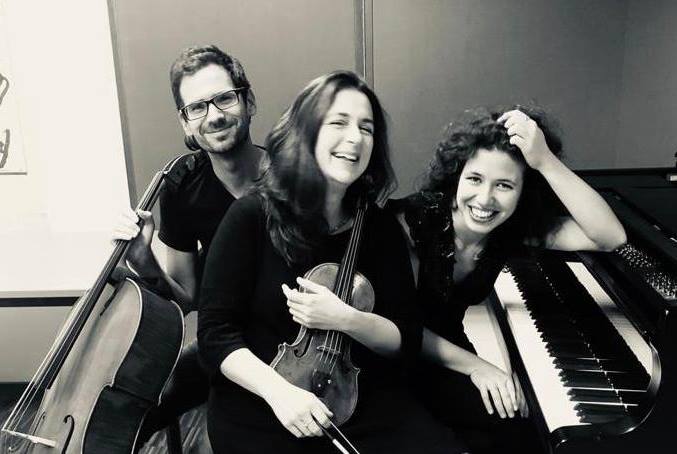 The violinist Božena Angelova was born in Maribor, Slovenia. After finishing the music school in Maribor, she studied violin, chamber music and baroque violin at the music academies in Klagenfurt , Bern, Basel, Palermo and at the university Mozarteum in Salzburg with Igor Ozim, Helfried Fister, Rainer Schmidt, Enrico Onofri and with Reinhard Goebel. She completed her master´s degree at the University Mozarteum with distinction. She won several prizes at national and international music competitions and was awarded with scholarships of the Slovenian and of the Swiss government. Božena performed as a soloist with the Carinthian symphony orchestra, with the Symphony orchestra of Maribor, with the Slovenian philharmonic orchestra in Ljubljana, as well as with the New chamber orchestra and the Ars academica orchestra in Spain and Germany. She recorded for the slovenian, austrian and for the mexican broadcasting company. She was a member of the Gustav Mahler Youth Orchestra. She plays regularly with the Camerata Salzburg, with the Stuttgart Chamber Orchestra and with the early music ensembles Il Suonar Parlante, Ensemble 1700 and with the Slovene ensemble Musica cubicularis. As a soloist and chamber musician she performs in Europe, in the USA and in Mexico. Since 2011 she has been a member of the string faculty at the University Mozarteum in Salzburg as a lecturer for violin and chamber music. She has given masterclasses for violin and chamber music in Europe and in Mexico.
Minka Popovic is currently Salzburg-based Serbian pianist. She enters the Music Academy in Belgrade aged sixteen and she finishes it in class of Prof. Nevena Popovic, with the title of the Best student of the generation 2004/2005. She entered the Universität Mozarteum in Salzburg/Austria in 2008, where she finished her education (both bachelor and master) with the best grades, in class of Prof. Cordelia Höfer-Teutsch. She was studying with Prof. Eldar Nebolsin (at Hochschule für Musik Hanns Eisler Berlin) as well. Her music-career crowns the number of prized at international piano competitions such as: Four times first prize winner of Serbian national piano competitions; First prize at Chopin competition in Rome (2005); 2nd prize at Athens international piano competition in Greece (2006); 2nd prize at Villa de Capdepera international competition in Spain (2006); special 1st prize at Banjaluka Bienalle (2008); 3rd prize at "XXI Ramon Lull Rotary Club Piano Competition" (2014); Prize for the "exceptional cultural contributions" from the royal family Karadjordjevic; the prize of Association of classical musicians of Serbia (UMUS) for the "Best young artist" (2013), a.o. She held a number of concerts in many European countries: Germany, Austria, Romania, Croatia, Spain, Greece, Serbia and some of her most distinguished performances are the ones at Berliner Philharmonie. She had her debut at Kammermusik Saal as a part of "Philharmonische Salon" of Berliner Philharmoniker cycle, and she repeated her success two years later at the same hall. Alongside with her solo-engagements, she devoted herself to chamber music, performing in many different ensembles. Minka is also a founder of "Susak music festival", a chamber music festival at the small Croatian island Susak which each year attracts renowned artists from all over the world.
Gregor Fele studied violoncello at the Academy of Music in Ljubljana with Miloš Mlejnik and continued his studies at the University Mozarteum Salzburg with Enrico Bronzi and baroque cello with Marco Testori. As a soloist he performed alongside with the Symphony Orchestra of the Academy of Music in Ljubljana, Symphony Orchestra of Opera Ljubljana, Symphony Orchestra of Opera Maribor, Slovenian Radio Symphony Orchestra and the Orchestra of the Slovenian Armed Forces. He performed at the World Music Days and at the festivals Aspekte and KlangReisen in Salzburg.
He has worked with well-known performers of baroque music auch as Reinhard Goebel, Dorothee Oberlinger, Marco Testori, Midori Seiler, Lorenzo Ghielmi, Hiro Kurosaki, Stefan Temmingh and Oliver Weber.Since 2006 he has been a member of the Slovenian Radio Symphony Orchestra, which he directed in baroque music concerts for the Mozartine series in 2016 and 2018.

Ticket Categories
Location
The baroque Marble Hall of Mirabell Palace is known as one of the most beautiful and historically important concert halls in Salzburg and the world. In former times the Mozart family played music there for the archbishops.