palace concert

in Salzburg
Location:
Marble Hall at Mirabell Palace in Salzburg
Concert
Program
MOZART: Serenade G Major KV 525 "A Litte Night Music"
VIVALDI: "Winter" from "The 4 seasons"
Orchestra 1756
on period instruments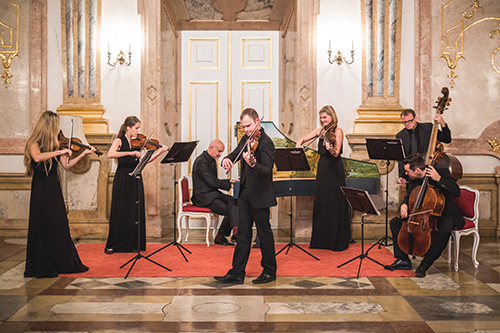 In 2006 the Orchestra 1756 was founded. The orchestra devotes itself to the interpretation of musical works composed between 1750 and 1800. The unique sound originates from intensive work with the style of the 18th century, historic instruments, historical performance practice and a formation of musicians the pieces of music were written for. The Orchestra 1756 is submitted to a strict stylistic criteria.

In 1741 Venetian composer Antonio Vivaldi died in Vienna. He was buried a few meters from the Karlskirche at "Spitaler Gottesacker" graveyard. Today his grave is missing.
Ticket Categories
Category I
Numbered seats, central seating.
Seats will be assigned after booking.
Category II
Unnumbered seats behind and on the side of Cat. I, open seating.
Location
The baroque Marble Hall of Mirabell Palace is known as one of the most beautiful and historically important concert halls in Salzburg and the world. In former times the Mozart family played music there for the archbishops.